Welcome to the Langton Medical Group
Welcome to the Langton Medical Group's website. We currently operate three surgeries, one in Lichfield, one in Whittington and one in Burntwood.
The Langton Medical Group is an experienced team of GPs and nurses with an extensive administrative team dedicated to providing high quality and family-orientated care to our local population. We fully support a preventative approach to healthcare. We are a training practice with registrars and visiting medical students at various times throughout the year.
The Langton Medical Group has achieved the Quality Practice Award by the Royal College of General Practitioners. The Quality Practice Award is the highest attainable award available from the Royal College of General Practitioners encompassing a large clinical component and assessment of patient experience.
Quality Practice Award is standards-based quality accreditation process designed to improve patient care by encouraging and supporting practices to deliver the very highest quality care to their patients. In operation since 1996, the Quality Practice Award recognises the commitment of the entire team, including the attached staff, in providing high quality care for patients within a learning and adaptive environment.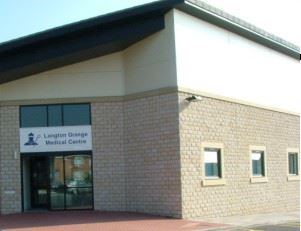 Coronavirus
For further information please visit www.gov.uk/coronavirus
There is also additional information on the dedicated Coronavirus page in the Further Information section at the bottom of this page.
If you are attending the surgery for an appointment please wear a face mask or a covering for your mouth and nose (such as a scarf). Unfortunately we are unable to supply patients with face masks. Thank you for your help and co-operation.
We want to reassure our patients that our surgeries are safe. It is extremely important that anyone with significant health concerns continues to contact us.
Telephone appointments are available to book online or by calling our appointments line. During the telephone call if the clinician feels it is clinically appropriate they will book you in for a face to face appointment.
If you need to see a clinician the appointment will be in a COVID safe room and the clinician will advise you on the protocol when attending. The clinician will follow strict guidance on infection control to protect themself, you and other patients. This will include wearing personal protective equipment and restricting the number of people allowed on the premises at any one time. We ask that all patients coming into the practice wear a face mask in line with government advice: https://www.gov.uk/coronavirus. As per government guidance, exemptions apply to very young children, disabled patients and those with breathing difficulties.
Clinical staff may also use secure video calls and photographs when consulting with patients who are not present in the surgery.
Following your appointment further tests or referrals will be arranged if clinically appropriate and in the safest way possible.
You should contact us if you notice a change that isn't normal for you or if you have a symptom that you are worried about. If you need to get in touch, we are ready to help you safely.
Please do not let concerns over COVID-19 stop you from contacting medical services.